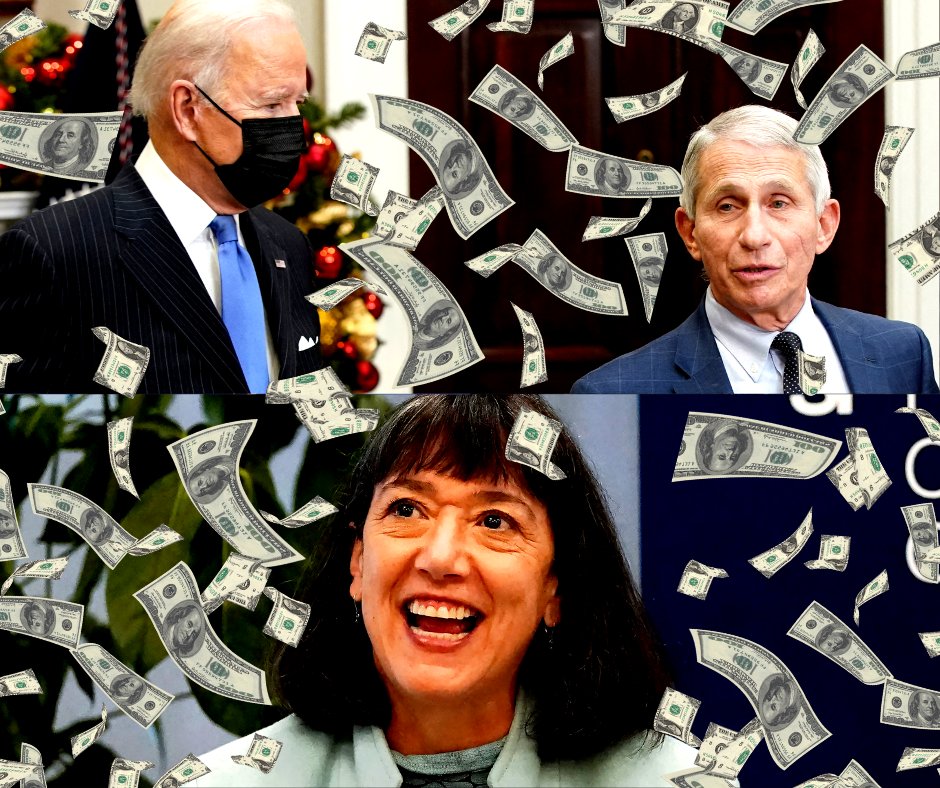 The New York Post: A conservative group is alleging that President Biden's nominee to helm the National Institutes of Health has "problematic close ties with big pharma."
In a new report, the American Accountability Foundation, a right-leaning watchdog group, highlights NIH nominee Dr. Monica Bertagnolli's history with the industry.
"Our government's medical institutions must serve the interests of the American people, not Big Pharma," AAF told The Post in a statement.
"However, Dr. Bertagnolli's extensive financial ties to pharmaceutical companies raise serious questions about her ability to lead NIH in a manner that is not beholden to special or secret interests."
---
Here's some of what we found:
1) Bertagnolli's career was bankrolled by Big Pharma:
Monica Bertagnolli is the principal investigator on numerous grants funded by the largest pharmaceutical companies in the world. In 2022 alone, her grants brought in $58,975,294.40 in awards from the largest pharmaceutical companies. Since 2016, awards from the leading pharmaceutical companies have steered $354,024,238.14 into her research programs. Articles "fact checking" reporting on the awards try to minimize her closeness to the pharmaceutical industry claiming that, "while Pfizer awarded grants to a nonprofit that Dr. Monica Bertagnolli headed up, the money did not go directly to her." That may be accurate, but it misses the point.
Monica Bertagnolli is profiting handsomely off of the pharmaceutical industry's support for her research. Funds have flowed through to her salary at Brigham and Women's Hospital / Dana Farber Cancer Institute where she is a researcher. On her financial disclosure forms for her nomination to lead the NIH, (which covers the current year, 2023, and the preceding calendar year, 2022) she reported $1,609,198 in salary and bonuses form Brigham and Women's / Dana Farber Cancer Institute. The hospital and cancer research center did not provide the massive salary to Dr. Bertagnolli out of the goodness of their hearts, but rather because she was bringing in significant research funds to the facility.
2) Bertagnolli sat on the boards of two biotech companies, receiving lucrative stock options, handsome director fees:
Bertagnolli's support from Big Pharma doesn't end with them supporting her research endeavors. Bertagnolli has also developed an uncomfortably close relationship with biotech firms, receiving lucrative stock options that she has cashed out and handsome director fees paid to her for corporate board membership. Filings with the Securities and Exchange Commission (SEC) show that before assuming her post at the National Cancer Institute, Monica Bertagnolli was on the board of directors of two healthcare research companies, Natera, Inc., a diagnostics company, and Leap Therapeutics, a biotech company.
Bertagnolli joined the board of Leap in December of 2018 and the board of Natera in November of 2020, leaving both when she was appointed as head of the National Cancer Institute in August of 2022. Serving on the board of biotech companies pays handsomely, and for Bertagnolli, that has come in the form of both directors' fees and stock options. As Natera's calendar year 2021 proxy filing with the SEC shows, Dr. Bertagnolli received $27,083 in cash, stock awards valued at $184,514 and options valued at $241,557. The proxy statement covering 2022, the year Dr. Bertagnolli resigned the board of Natera to lead the National Cancer Institute, Natera, a company which partners with National Cancer Institute funded research centers, paid Dr. Bertagnolli $26,425 in cash, and awarded her stock valued at $291,131. The largesse from Bertagnolli's close ties to the healthcare industry was felt even after she joined the National Cancer Institute and had left the Board of Natera, with Dr. Bertagnolli cashing out between $250,000 and $500,000 in Natera stock in December of 2022, when she was leading the National Cancer Institute.
Dr. Bertagnolli's service on the board of Leap Therapeutics was equally lucrative. In their fiscal year 2021 proxy statement, they noted that Dr. Bertagnolli received $27,125 in cash compensation and stock options valued at $78,926. In their proxy statement covering the fiscal year 2022, the company paid Dr. Bertagnolli, $32,813 in cash and $72,841 in stock option awards.
3) Bertagnolli Carried the Water for Drug Companies During Drug Price Debate:
In addition to her service on corporate boards, Bertagnolli has led non-profit foundations. During the Trump Administration, as chair of the American Society of Clinical Oncology, Bertagnolli helped lead the push back against the Trump administration's Most Favored Nation pricing proposal for prescription drugs, stating that "Because of the harm to patients, ASCO must strongly oppose the MFN model… This model, which imposes a nationwide, mandatory experiment without the ability to actually learn whether this is an optimal approach, will drastically cut reimbursement for a number of life-saving cancer drug treatments, significantly limiting access to care for Medicare beneficiaries. Implementing such a model during the COVID19 pandemic will also further strain oncologists' ability to provide high-quality, equitable cancer care."
Follow us for our next project! CLICK HERE