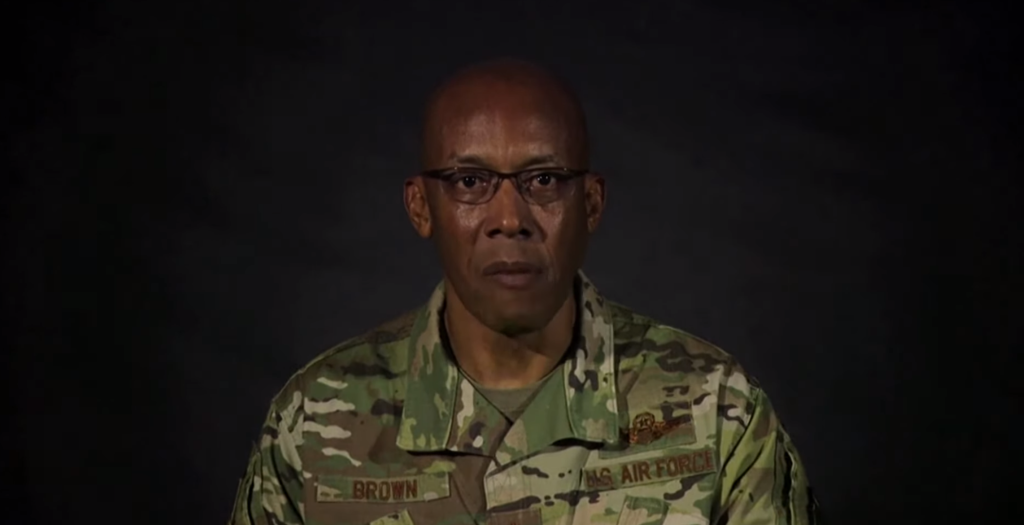 It's all on video here!
From FOX NEWS: A conservative watchdog group is accusing Air Force Gen. Charles Q. Brown Jr. of embracing race-based hiring and promotions in the military for the sake of "diversity."
The American Accountability Foundation (AAF), an opposition research group that has claimed credit for dismantling several Biden nominations, is now targeting Brown, who is the president's nominee to serve as the next chairman of the Joint Chiefs of Staff. At issue for the group are various public statements Brown has made in which he offered full-throated support for the military's diversity, equity and inclusion, or DEI, programs.
Brown, the first Black man to lead any branch of the U.S. military, has been outspoken in his belief that the military should be proactive in elevating diverse candidates to key positions. His previous public statements that articulated his views provide ample ammunition for critics like AAF and Republican opponents of DEI policies to attack his nomination.
"All of us have to seek out those diverse candidates to bring them in. And that's what we're trying to do in the Air Force," Brown said in a 2020 interview with the Chicago Council on Global Affairs. "It's – you almost got to purposely manage some of this. You can't let it – if you do it by happenstance, we won't change."
"I mean, I get so much out of it. I purposely build my office, my front office, and my team with [diversity], and I hire for diversity because they all bring a different perspective," Brown said.
Those comments, which were obtained by AAF and shared with Fox News digital, are one of many examples in which Brown has voiced support for diversity-focused hiring in the military.
"The things I think about is not only having diverse, you know, slates of candidates for some key positions, but it's also that you have to select some of those individuals into those key positions," Brown said earlier in the interview.
"You can't let it just be happenstance that brings in diversity, whether it be race, gender, ethnic background, sexual orientation or socio background," he said, explaining that the military should "identify diverse candidates and ensure that we are grooming them for opportunities."
Brown made similar comments in a December 2020 virtual town hall posted to Facebook, emphasizing the need for diverse groups to "have opportunities to be in key positions and compete in those positions" and that "there's aspects of that on the enlisted side based on how we do their promotions as well."
And in a January 2021 interview with Washington Post columnist David Ignatius, Brown said the Air Force under his command works to "ensure that we have diverse candidates" on lists for panels and boards. "And the last thing I would say on that is how we encourage and mentor some of those diverse candidates because sometimes they may feel like they're not qualified to put their name in, and we've got to actually nudge and pull and actually purposely manage to ensure that we have diverse candidates that can compete," said Brown.
AAF President Tom Jones told Fox News Digital there's no place for "diversity games" in military hiring and advancement.
"The American people deserve to be defended by the most highly qualified soldiers, sailors and airmen in the world, selected by merit, not race. More importantly, our troops deserve to be led by officers who are the best at their jobs. They deserve to put their lives in the hands of officers chosen for their skill and courage, not the color of their skin," Jones said. "Gen. Brown's obsession with race-based hiring and promotions is extremely disturbing."